Clyde Property Edinburgh is 5 Star Rated on Google!
Nothing says 'Exceptional Agency' like genuine, honest reviews on Google. Our team has no less than 32 five star reviews on Google, testament to the hard work, passion and dedication of our team. Here are some of the things our clients have said about our service.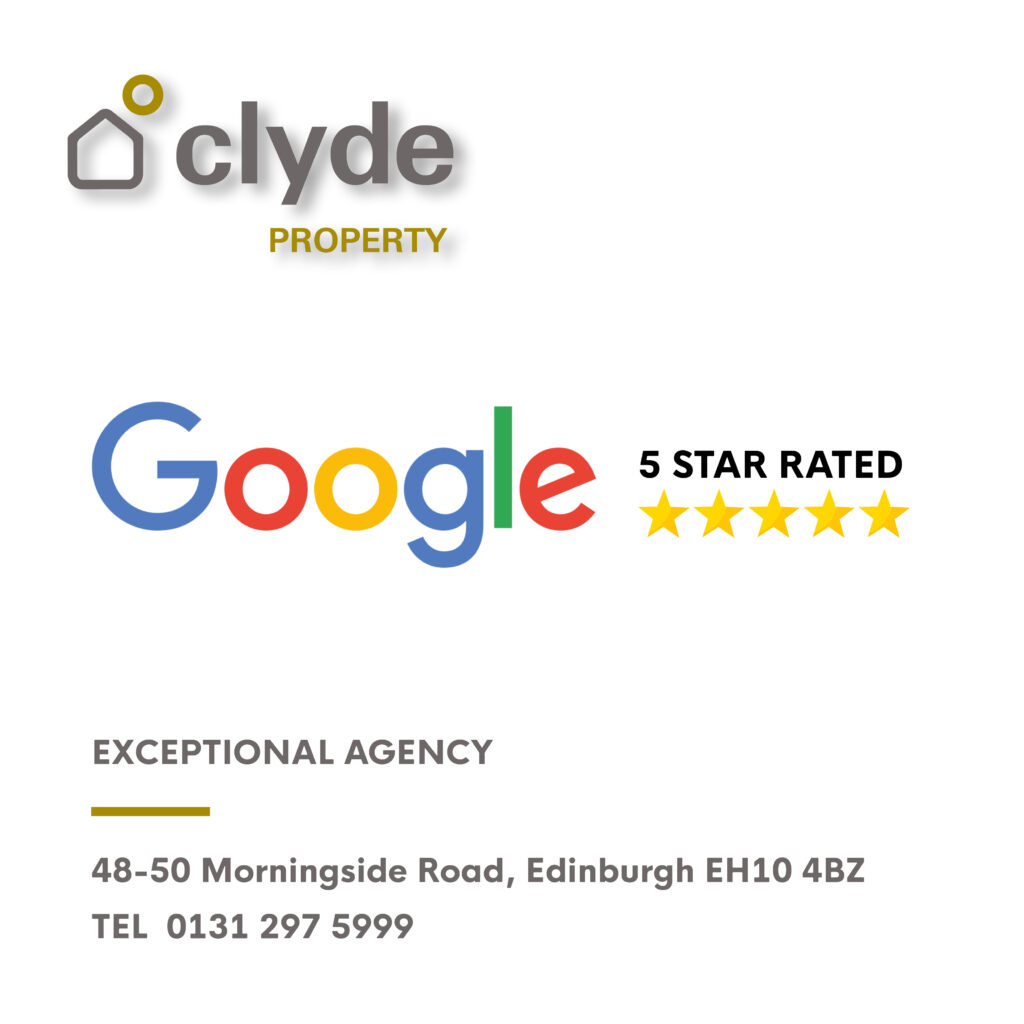 "Stuart, Caroline, Lucy and the rest of the team were fantastic when acting for me in the sale of two properties recently. Excellent communication from the word go, accurate valuations and both were sold in a matter of weeks for sale prices I was happy with tThis was all during the "quiet " Christmas period). The personal touch really made the difference for me. I will be recommending them to family and friends."
Mr. N. Renwick.
"Stuart and his team were fantastic throughout; from the most accurate valuation and excellent marketing right through to providing expert advice in the offer phase. Thoroughly recommend."
Mr. K. Tollerton
"Our experience with Clyde estate agents Edinburgh has been a very positive one. We successfully sold a three bedroom flat, off-market within a short duration thanks to the skilful handling of the sales process by the team at Clyde. Area director Stuart Brown was very knowledgeable about the local property market. He gave us good, timely suggestions and guidance in ensuring that we find the right buyer. Sales negotiator Lucy Forbes was very approachable and she communicated with us at every step of the sale. She was very committed in her approach to the sales proceeding of our flat. We would highly recommend Clyde estate agency for potential sellers and buyers."
Mr. B. Prasad
"We had marketed our renovated farm steading outside of Edinburgh with an established Edinburgh estate agent, which had resulted in one viewing over a five-week marketing period. Despondent, we sought the help of Stuart and Caroline at Clyde Property's Edinburgh office. Their professionalism and 'can do' attitude was to a person fantastic. In our opinion the company's up to date and innovative marketing techniques including drone videoing precipitated 10 viewings over a 3 week period resulting in three offers! The team at the Edinburgh office: Caroline Knowles, Stuart Brown, Lucy Forbes and Kate Dickie were, to a person, professional, easy to deal with, accessible, honest, trustworthy and reassuring – we felt in safe and knowledgeable hands. Many thanks and well done Clyde Property – we're well impressed."
Mr. M. Fried
"Stu and the team at Clyde property Edinburgh were absolutely fantastic. Caroline who looked after my property, was brilliant. She communicated back and forth with any updates and provided sage advice when needed. The phones were answered promptly and cheerfully. Top class operation. Can't thank you guys enough."
Mr. M. Knowles
"I would thoroughly recommend Clyde Property to anyone thinking of putting their home on the market. They are very professional and helped me achieve a great sale in a reasonably short time. From the first visit to assess my property to concluding the sale they kept me informed at all times by phone and email. In addition the My Clyde app was most useful in detailing their marketing of my house and informing me of the interest in it. I have now moved into the perfect house made possible by the sale and their efforts. I doubt another estate agency would have made so much effort."
Ms. P. Valentine
We are looking for more properties in the area due to a database of buyers and a very strong demand for the area. Contact Clyde Property Edinburgh for a valuation.
48-50 Morningside Road, Edinburgh EH10 4BZ
T: 0131 297 5999
Email: edinburgh@clydeproperty.co.uk
Exceptional Agency
Clyde Property is a leading independent, multiple award-winning estate agent with over 30 years' experience in selling and letting property in Scotland. Just call your local Clyde Property branch today, for friendly, impartial advice on letting and renting property.