Valentine's Day – Did You Know…..?
Valentine's Day, also known as Feast of Saint Valentine, is celebrated on February 14th and the idea is that we can show our loved one how much they mean to us. But why do we send red roses and chocolates? Who Was St. Valentine? and why is it celebrated on February 14th?
Where does Valentine's Day originate from?
Valentine's Day thought to originate back to 496 as part of a Roman festival called Lupercalia when boys would draw a girl's name from a box be paired with them for the duration of the festival, sometimes even marrying her. Later, the church wanted to use this festival as a Christian celebration and used it to remember St. Valentine too – and gradually it started to be used by people to express their feelings of love and affection.
Why are long stemmed red roses given on Valentine's Day?
The tradition of giving flowers on Valentine's Day dates back to the late 17th century. During a trip to Persia, King Charles II learned about the art of communicating using flowers without uttering any words at all. This became a fad throughout Europe with flowers beginning to represent certain feelings and gestures. For example, a yellow rose was given to represent disappointment, and a purple hyacinth meant that you were sorry. The red rose represented love and passion, and it took on this meaning because it is said that rose bushes grew from the ground from Aphrodite's tears and the blood of her lover, Adonis.
Why do we give Valentine's cards?
You could be forgiven for thinking that Hallmark invented Valentine's Day cards as it first offered Valentine's Day cards in 1913 and began mass producing them in 1916. However, it goes back to 1415 when Charles the Duke of Orleans wrote a poem for his wife while imprisoned in the Tower of London on Valentine's Day. By the 16th century, giving a loved one a card had become commonplace to the point that religious leaders preached against them. By the early 19th century, it was the most popular way to express your love.
Why does an 'X' symbolise a kiss?
This started with people in medieval times being unable to write their name so when required to sign their name in front of a witness they used a cross to show sincerity.
Why February 14th?
There are several theories, one is that King Henry declared this date as the holiday of St. Valentine in 1537 and another is that in the Middle Ages in England and France February 14th was generally accepted as the beginning of birds' mating season. There is also a theory that the Lupercalia festival was on the February 15th but moved to the 14th when the festival was abolished.
Why is the colour red associated with Valentines Day?
Traditionally people believed that the feeling of love came from the heart, and as it pumps blood around the body the colour red became the symbol of love and passion.
Where does 'wearing your heart on your sleeve' come from?
In the Middle Ages there was a tradition where men and women would draw names from a bowl to see who would be their Valentine. This would then be worn on their sleeve for a week.
Why do we gift chocolates to a loved one?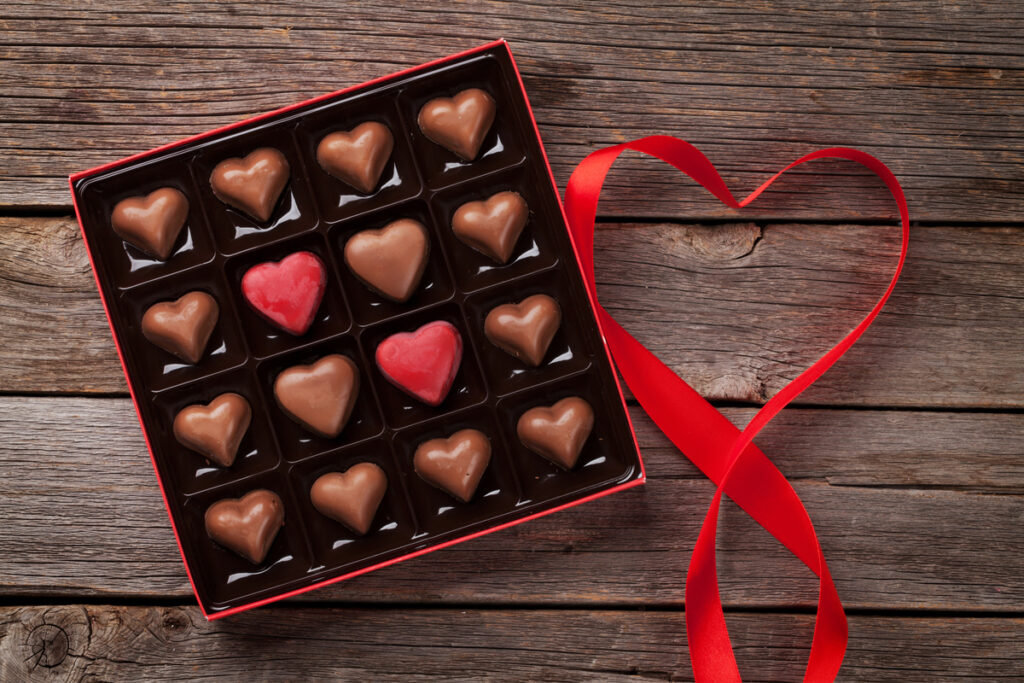 This originates back to Richard Cadbury, who gave chocolates to his beloved in a heart-shaped box in 1868.
How many roses are sent on Valentine's Day?
It is estimated that some 224 million roses are grown and cultivated for Valentine's Day. Not surprisingly men are the biggest purchasers of flowers at 73%, but what is surprising is that 14% of flowers are sent by women to themselves on Valentine's Day! Well, if no one else is going to do it….!
Singles Awareness Day
Valentine's Day also doubles as Singles Awareness Day in several countries.
Our pets
It's not just our partners that receive gifts, we also give Valentine's Day gifts to our beloved pets – with 9 million people giving their pooch or feline friend a gift.
Clyde Property is a leading independent, multiple award winning estate and letting agent with 30 years' experience in selling and letting property in Scotland. Just call your local Clyde Property branch today, for friendly, impartial advice on finding your next dream home.