10 Noteworthy Interior Design Trends for 2019
Last year interior design trends included rose gold, copper, subway tiles and exposed lighting – so what are we seeing in the latter half of 2019? Just like the ever changing fashion trends, interior design trends also change as there are new fads and collaborations to consider when designing your ideal home. There are new designs and concepts, along with chic, timeless pieces to add a new fresh take on an old classic style.
For interiors in 2019 there is a multitude of possibilities. Perhaps one of the more overriding themes is going to be, or is, sustainability and the use of natural materials. There will be, as always, new and exciting colours for everyone to embrace but the predominant factor will be emphasised through classic, longer lasting designs. Read on to find out what the noteworthy interior design trends are in 2019.
Brass is class!
Gone are the days where stainless steel is a dominant feature within our bathrooms, it is time to move forward with brass. Brass is the metal that you never knew you needed. It is an unexpectedly warm and understated alternative to the predictable steel accents and will no doubt complement the everyday feel of sophistication to the simplest of spaces. Use it throughout the home in accessories, fixtures and fittings.
Mix and match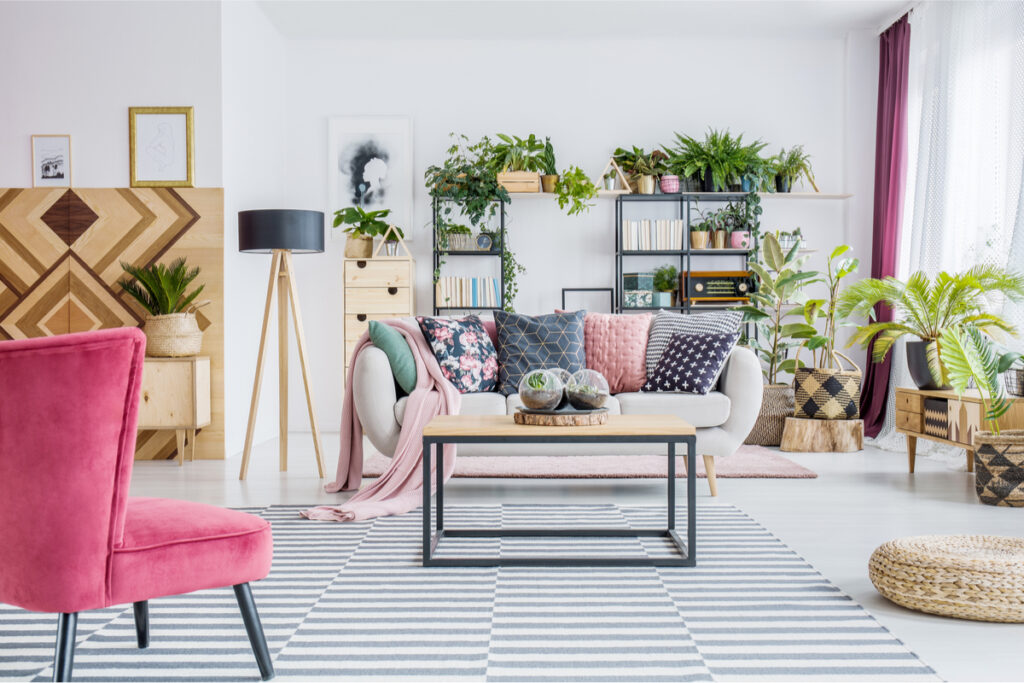 Incorporating patterns into your everyday décor is no new trend. However, a combination of patterns can be used to create a dramatic presence this year. Colours can be bolder and patterns can be oversized making a bold statement in any room you see fit. The key to using a combination of patterns is to keep that colour palette the same tones, if you can. This allows the patterns to balance visually but also makes a statement at the same time.
Mellow yellow
Burnt yellow and mustard shades used to be present in the background of interior, in the last few months they have moved to the forefront. Previously, these shades of yellow have been dubbed too intense and overpowering but in 2019 the bolder the better. People are no longer satisfied with minor pops of colour and we are seeing a movement towards grander pieces of furniture flooded with bold and immersive colouring. These are adaptable shades that work in conjunction with millennial pink, and geometric patterns if you really want to make a statement.
Millennial pink
This aesthetically pleasing colour is a warming nurturing shade that is set to invigorate and brighten homes. It has an enchanting modern feel that is sure to create a buzz. This soft pastel palette is fitting within most environments, be prepared to integrate it in new and imaginative ways as an efficient way to improve any space with decorative accents. Combine contrasting pinks and purples to create a warm, comfortable interior.
Open Shelving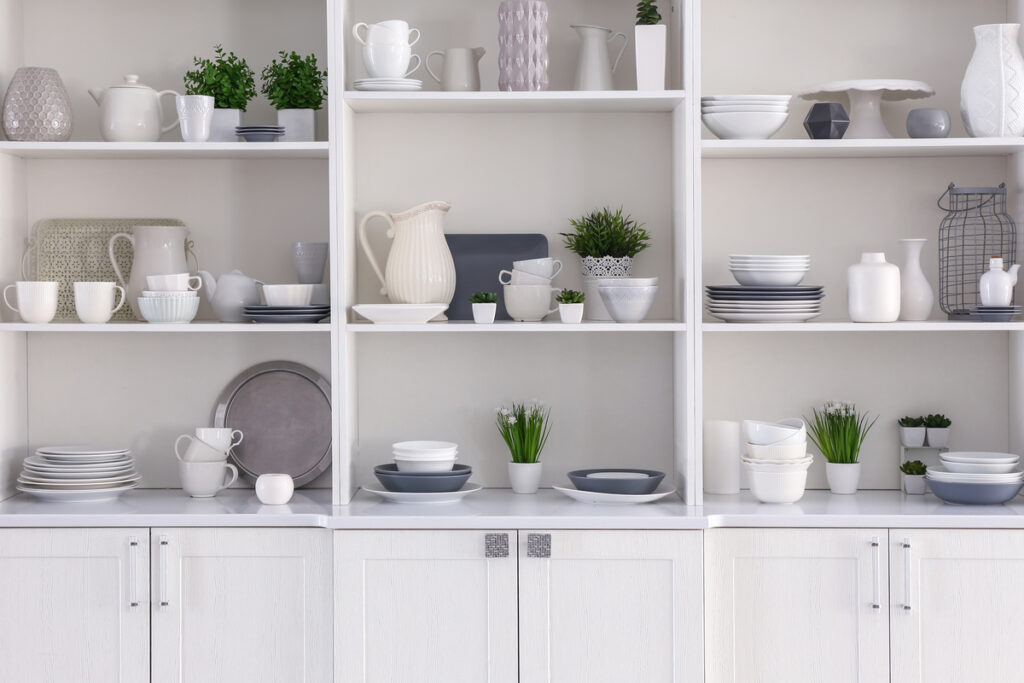 It is now a trend to have a lot of your kitchen items, or any items for that matter, on display rather than hidden away in a cupboard or drawer. A good way to do this would be to incorporate open shelving into a room of your choice, invest in some mason jars and fill them with oats, cereal, herbs etc. and place them on display in your kitchen, or flowers for your hall or living room. This is an easy way to make your home quirkier and can create an enhanced sense of space.
Concrete and ceramic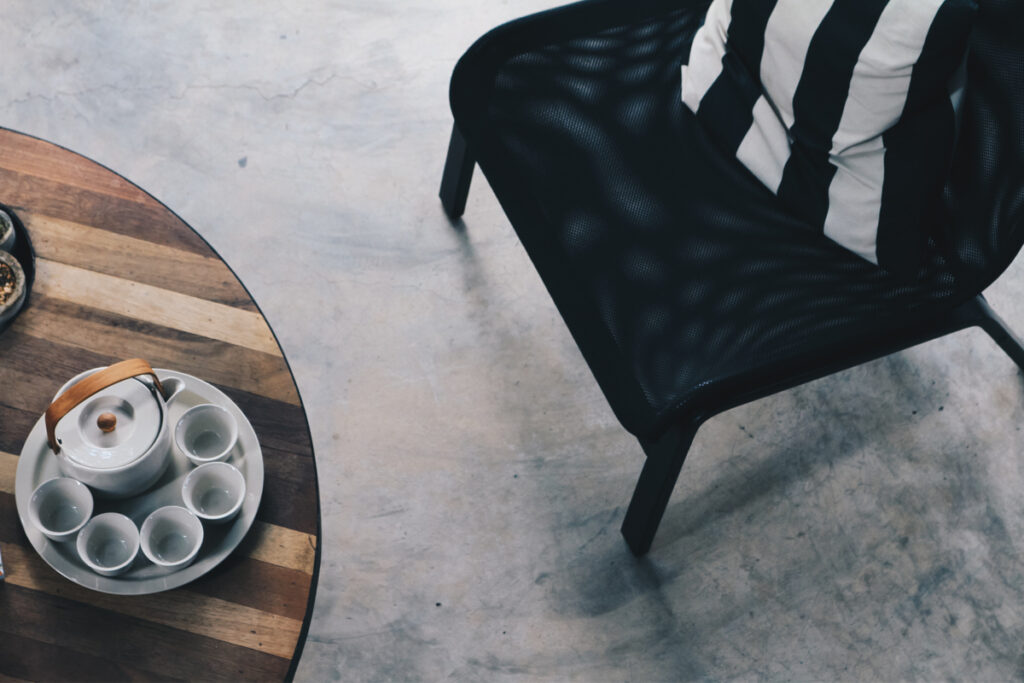 Both concrete and ceramic items add an artisanal element to any room. These trends may hesitate you but the organic style and subtle patterns are just what you need to add to your stylish home. Incorporate the concrete look into your home with the flooring – either with a concrete floor or a luxury vinyl concrete effect for a warmer feel underfoot.
70s Style
For years old design trends have been creeping back into society whether that be through fashion or in our homes. 70s chic décor is full of warm palettes, unusual textures, geometric prints and abstract shapes. If you adapt this interior design notion to your home then you will not be disappointed as it will fill your home with personality.
Floral Patterns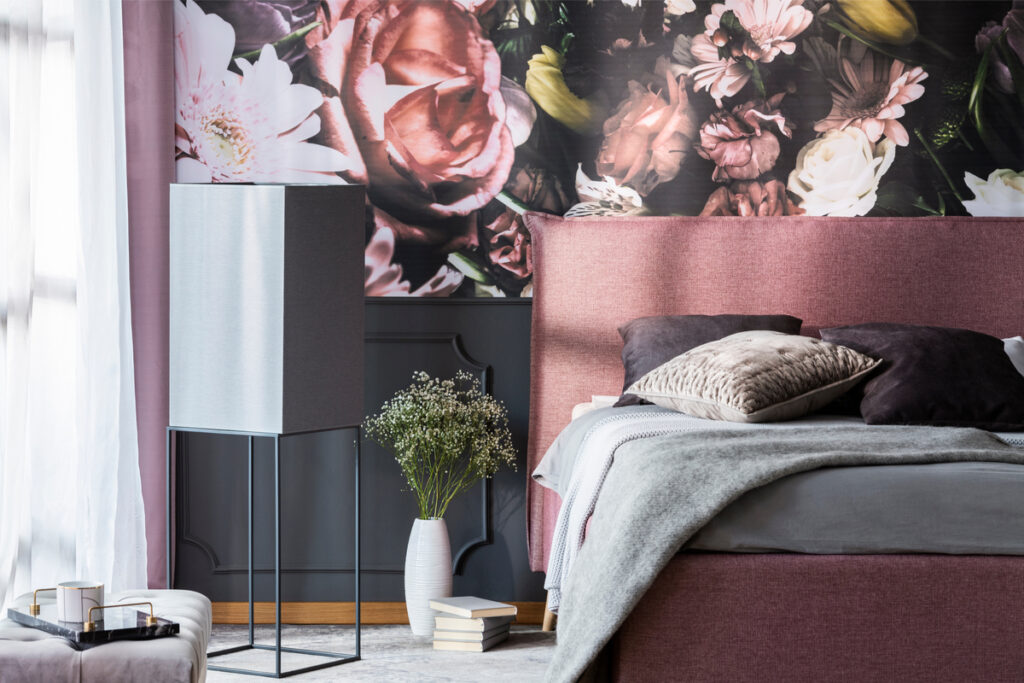 Put a contemporary spin on this traditional pattern. This year the floral game has been upped; they have been thoroughly reinvigorated and updated. Florals are expected to be overstated and playful with contrasting colours to make this eternal décor pattern feel revitalized.
Mid-Century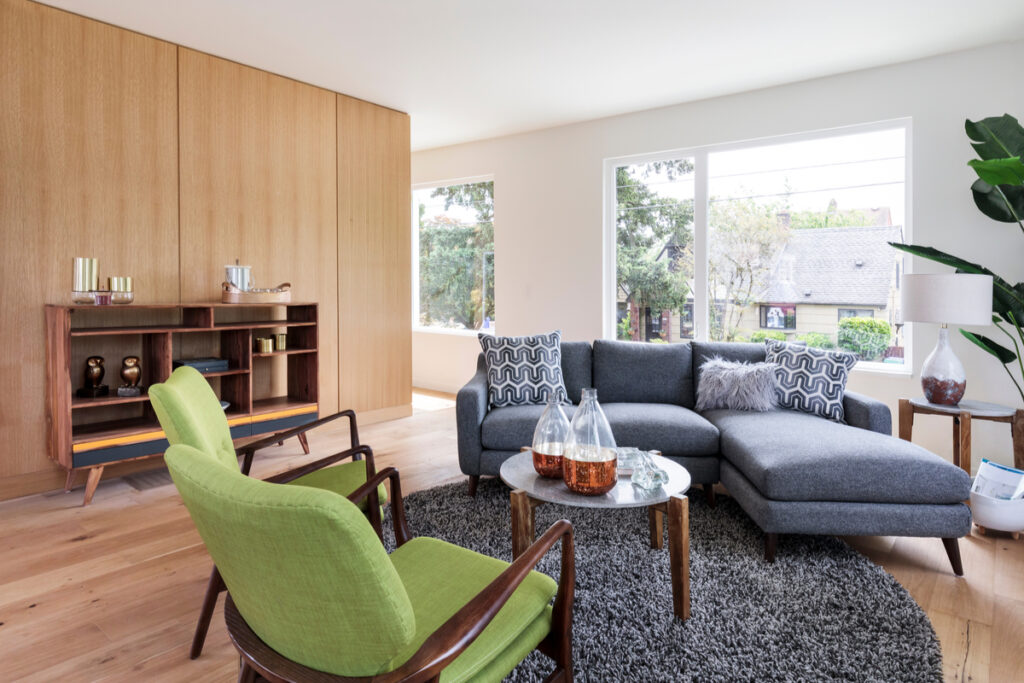 Creating a mid-century design allows for longevity that suits the understated fan. Elongated table legs, smooth lines and minimalist simplicity are all key drivers in mid-century design. The best way to incorporate this design is to limit your colour palette to a select few colours and allow the shapes from the furniture to bring the room to life.
Au Natural
Sustainability will be a major player within the design industry this year. Kitchens can now be made out of recycled wood and a great way to update your kitchen is with a makeover where you just replace the doors and worktops, keeping the carcass (which are built to last around 20 years). Another popular natural feature is the flooring – use bamboo (hard flooring and carpet) sisal, jute or seagrass to create a natural floor covering. You can even find carpets made from recycled plastic bottles! Pair these environmentally friendly features with natural materials such as stone, copper, concrete and granite to help bring a natural and tranquil ambiance to any space.
Clyde Property is a leading independent, multiple award-winning estate agent with over 30 years' experience in selling and letting property in Scotland. Just call your local Clyde Property branch today, for friendly, impartial advice on letting and renting property.